Our three pocket parks improve quality of life in Mapleton-Fall Creek and the surrounding neighborhoods. They invite kids outside to play, encourage adults to stay active, and provide central gathering places.
In 2012, we dedicated three vacant lots as future pocket parks. Over the next few years, we transformed the spaces—clearing debris, planting grass, and installing trails, walkways, benches, and playground equipment.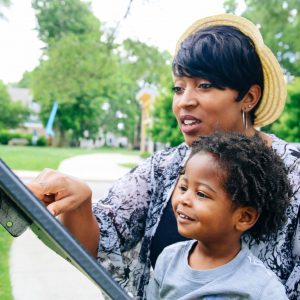 We continue to maintain and update these pocket parks, located at 2900 Park Avenue, 3000 Ruckle Street, and 3100 New Jersey Street.
Support Our Parks and Save Money
Tax credits make donating to nonprofit organizations, like Mapleton-Fall Creek Development Corporation, even more attractive because not only does the money go toward a good cause, it actually puts money back into the donor's pocket.
Any donor contributing $100 or more will receive a credit for 50% of their donation when filing their Indiana State tax return. The contribution can also be used as a deduction on their Federal tax return.

Eligible donors include any person, business, or organization that has an Indiana income tax liability. Donors can make contributions over a period of time as long as it is in the same calendar year.
How do I sign up?
Contact Tom Blair at (317) 220-2014 or thomas@mfcdc.org to see if NAP credits are still available.
Fill out the necessary Donor Contribution Form.
Return the completed form with your donation to Mapleton-Fall Creek Development Corporation (3190 North Meridian St, Indianapolis, IN 46208).
Your donation can be made by check or credit card. You can donate through our website. If you have any questions about the program, please don't hesitate to call.
Thank you in advance for supporting our parks!